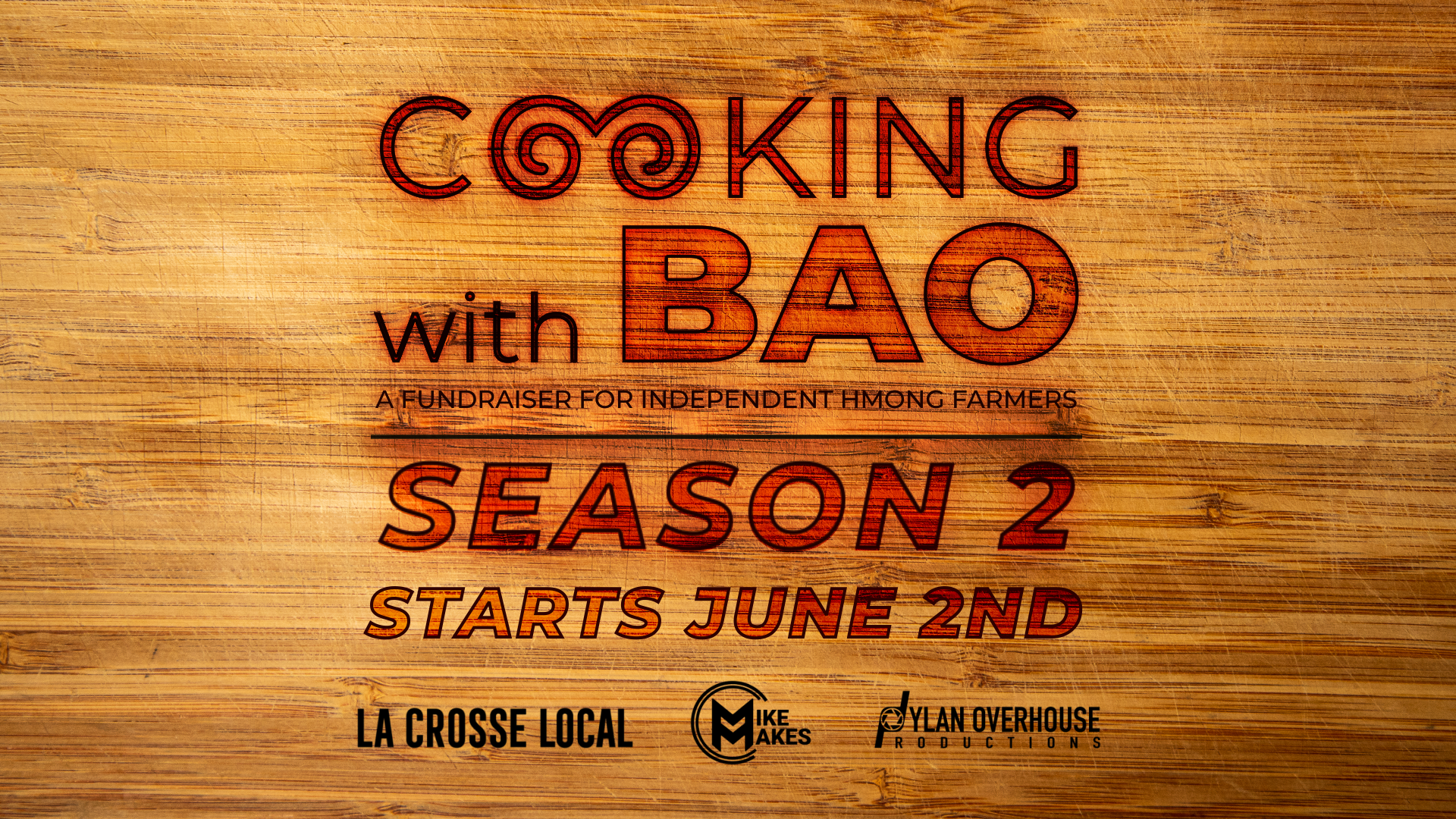 Premieres June 2 on Youtube and Facebook
Thursdays at 3:30pm June 2, 2022 – August 4, 2022
Variety of new and returning guests including Mayor Mitch Reynolds
La Crosse, WI (June 1, 2022):
The limited series cooking show
"Cooking with Bao'
' will be kicking off Season 2 Thursday, June 2 at 3:30pm with special guests. The released episodes will use ingredients readily available at area farmers markets.  For those that choose to follow along, recipe cards are available at
https://lacrosselocal.com
.
Season 2 guest hosts include several also featured on Season 1, including Mayor of La Crosse Mitch Reynolds, Josh Dumale of Dirty Dozen Donuts, and Abram Dyke of Abe's Raves. A new host this season is Wisconsin Foodie's Chef Luke Zahm of the Driftless Cafe.
June Schedule | Thursdays | 3:30pm
*meal prepared by guest host
June 2 – Ep01: Asparagus Two Ways with Abram Dyke
June 9 – Ep02: Spring Mix Breakfast and Lunch Bowls with Mayor Mitch Reynolds
June 16 – Ep03: Larb with Abram Dyke
June 23 – Ep04: Potato Gnocchi with Pesto and Broccolini with Josh Dumale*
June 30 – Ep05: Fresh Veggie Board Spread & Fresh Raspberry Vodka Mojitos
July 7 – Ep06: Lebanese stuffed grape leaves with Abram Dyke*
July 14  – Ep07: Chicken Soup with Sticky Rice and Hmong Sausages with Luke Zahm*
July 21  – Ep08: Pork and Ginger Stir Fry with Abram Dyke
July 28  – Ep09: Korean BBQ Bowl with Abram Dyke
August 4  – Ep:10 Khao Piak: A Rice Noodle Soup Dish with Abram Dyke
Thanks to Altra Federal Credit Union, Mayo Clinic Health System, People's Food Co-op, and La Crosse Fireplace Co.for supporting Season Two!
Individuals may donate via Venmo: venmo.com/ForIndependentHmongFarmersCorp.
La Crosse Local, Dylan Overhouse Productions, Mike Makes, and Bao Xiong, founder of the For Independent Hmong Farmers Corp. partnered to produce the 10 episodes. They will debut on Youtube and the La Crosse Local Facebook page.
"Cooking with Bao" was awarded a 2021 Specialty Crop Block Grant from the US Department of Agriculture and will be using funds for the rebuilding and establishing of a program to help Hmong farmers rebuild their business, as well as the production of Season 2, to further spread the message of Independent Hmong farmers in the La Crosse area.  Learn more. 
An Independent Hmong Farmer's Fundraiser
For Independent Hmong Farmers Corp. is a nonprofit organization focused on preventing local produce waste and hunger in the community through financial assistance programs for independent Hmong farmers who donate produce to food pantries and nonprofit organizations.
Those who still wish to support Independent Hmong Farmers Corp and its ongoing programming may send donations to Venmo.
Independent Hmong Farmers Corp. (501c3)
P.O. Box 578
La Crosse, WI 54602
Media Contact
Bao Xiong
Founder
An Independent Hmong Farmer's Fundraiser
[email protected]
facebook.com/forindependenthmongfarmerscorp