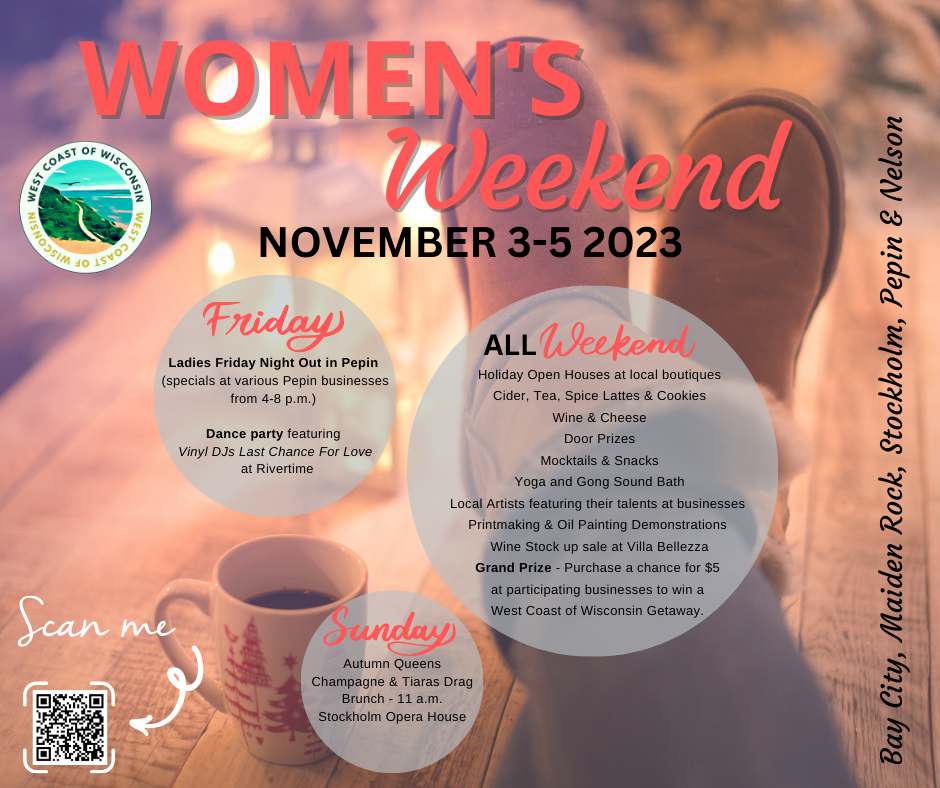 2023 West Coast of Wisconsin Women's Weekend
West Coast of Wisconsin (October 2023): The West Coast of Wisconsin is a beautiful and vibrant area that offers a variety of events and activities throughout the year. This November, the annual Women's Weekend celebration returns to the region, providing a whole weekend of relaxation, shopping, and fun.
Running from November 3rd to the 5th, the West Coast of Wisconsin 2023 Women's Weekend will feature offerings in the Villages of Pepin and Stockholm. These events include special shopping deals and holiday themed events, live music, art, and more! Participate in drawings to win gift certificates and prizes, take advantage of great deals, and stock up on goods for the holidays! Plus enjoy featured events such as the Autumn Queens Champagne Tiaras Drag Brunch at Stockholm Pie, an open house at Little Colony Arts, printmaking and oil painting demonstrations at Art Orchard Gallery, and a night of live music at RiverTime featuring vinyl DJs Last Chance For Love.
Featured Participating Businesses
Pepin's Rusty Peddle
RiverTime
Pepin Labyrinth
Villa Bellezza Winery
Tin Roof Boutique
E & S Fresh Market
The Pickle Factory
Stockholm Wisconsin and Stockholm Pie Company
Little Colony Arts
Lavender Bluff
Allaire Coffee Shop
Hugga Bugga
Art Orchard Gallery in Stockholm
Find more events at https://www.thewestcoastofwisconsin.com/events
About – The West Coast of Wisconsin
The West Coast of Wisconsin represents the Villages of Bay City, Maiden Rock, Stockholm, Pepin, and Nelson and visitors to the website can now enter the "West Coast of Wisconsin Getaway Sweepstakes" and have a chance to win a stay and gift certificates to area businesses, attractions, and experiences.
Media Contact 
Charlotte H. Scherer
President
West Coast of Wisconsin Business & Tourism Association
(612) 308-1714
[email protected]
thewestcoastofwisconsin.com