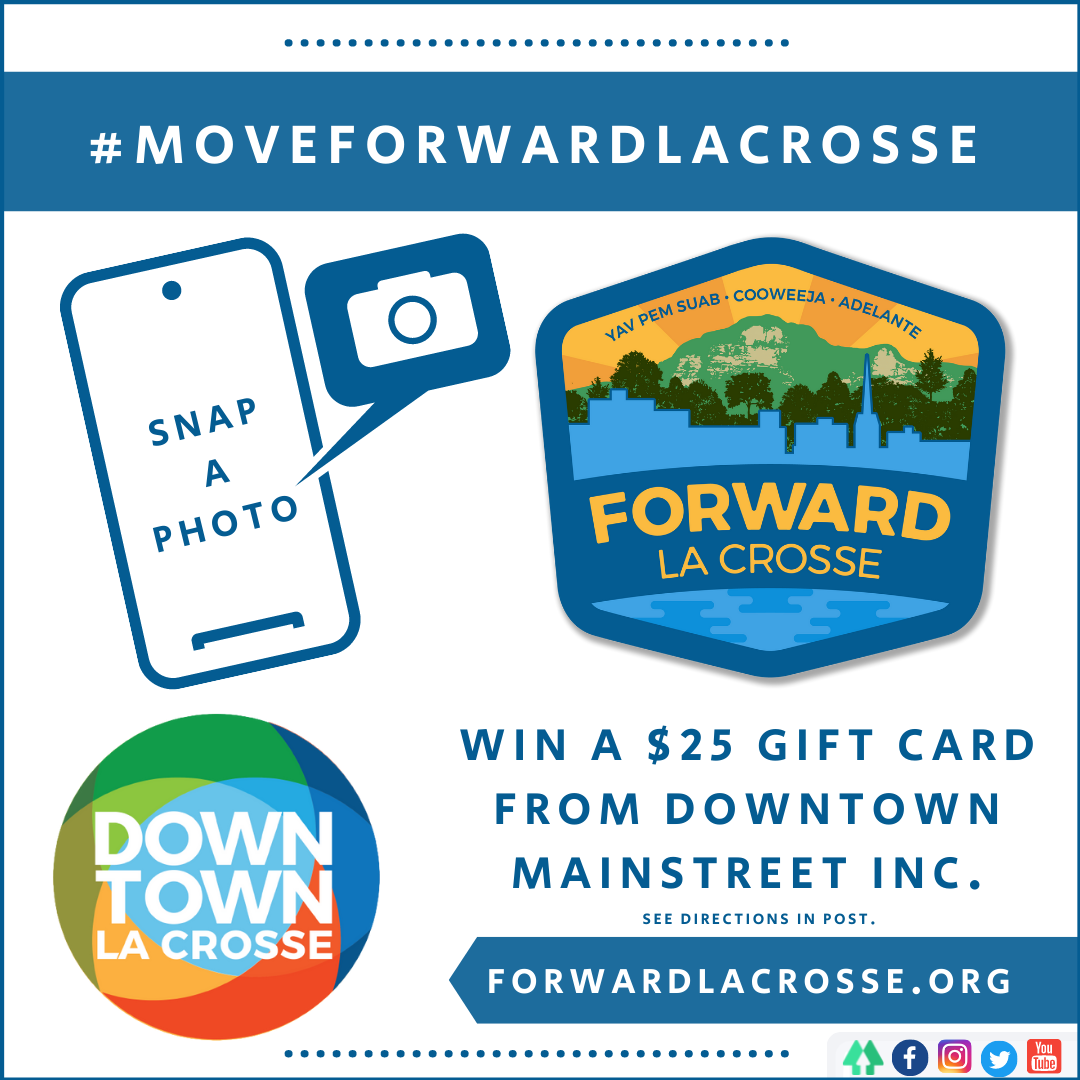 La Crosse, WI (Friday August 5, 2022): The City of La Crosse has reopened its Forward La Crosse modules to solicit community feedback until Wednesday August 31, 2022. Additionally, the City of La Crosse is further asking community members to take and post photos of their favorite (or least favorite) things in La Crosse and tag Forward La Crosse on Facebook, Instagram, or Twitter utilizing the hashtag #MoveForwardLaCrosse.
Theme Ideas for Photos Include:
Housing
Bike, Pedestrian, Transit
Recreation & Natural Resources
Culture & Historic Resources
Community Assets
Opportunities
Four participants will be randomly selected to receive a $25 Gift Card from Downtown Mainstreet Inc. valid at over 75 local businesses.
The campaign will be addressing issues and opportunities, housing, transportation, economic development, intergovernmental cooperation, land use, utilities, community facilities, agricultural, natural and cultural resources, and plan implementation.
The City of La Crosse reopened the following modules to solicit community feedback, The survey (1) offering the chance to share insights about what life is like in La Crosse and what residents hope to see in the future. Leave comments and photos on a digital map (2) highlighting opportunities for parks and recreation, historic preservation, transportation, and more. Share priorities via the "voting game." (3) and identify which principles (4) should be prioritized to guide La Crosse's future. The visual preference survey (5) is a short survey where you select images that you prefer related to the design of buildings, streets, and public spaces across the City.
Further in-person community feedback and engagement opportunities include (Both In-person and Virtual options are available):
August 16 – South Side Neighborhood Center
1300 6th St S, La Crosse, WI 54601
12:00pm- 1:00pm
August 16 – Black River Beach Neighborhood Center
1433 Rose St, La Crosse, WI 54603
5:00pm-6:00pm
Virtual info:
Join the meeting: https://call.lifesizecloud.com/4796124
Click to call from Mobile (audio only)
United States: +1 (877) 422-8614,, 4796124#
August 18th – Committee for Citizens with Disabilities
400 La Crosse St La Crosse, WI 54601
City Hall's Eagle Room
9:00-10:00am
Virtual info:
Join the meeting: https://us06web.zoom.us/j/89439595379
Click to call from Mobile (audio only)
United States: +13126266799,,89439595379#,,,,*568907#
Visitors to forwardlacrosse.org have the opportunity to access interactive features designed to make providing feedback simple, easy, and fun. Community feedback can be submitted online until August 31, 2022
Media Contact:
Tim Acklin, AICP
Planning Administrator
City of La Crosse Planning and Development
400 La Crosse St. La Crosse, WI 54601
608-789-7391
www.cityoflacrosse.org