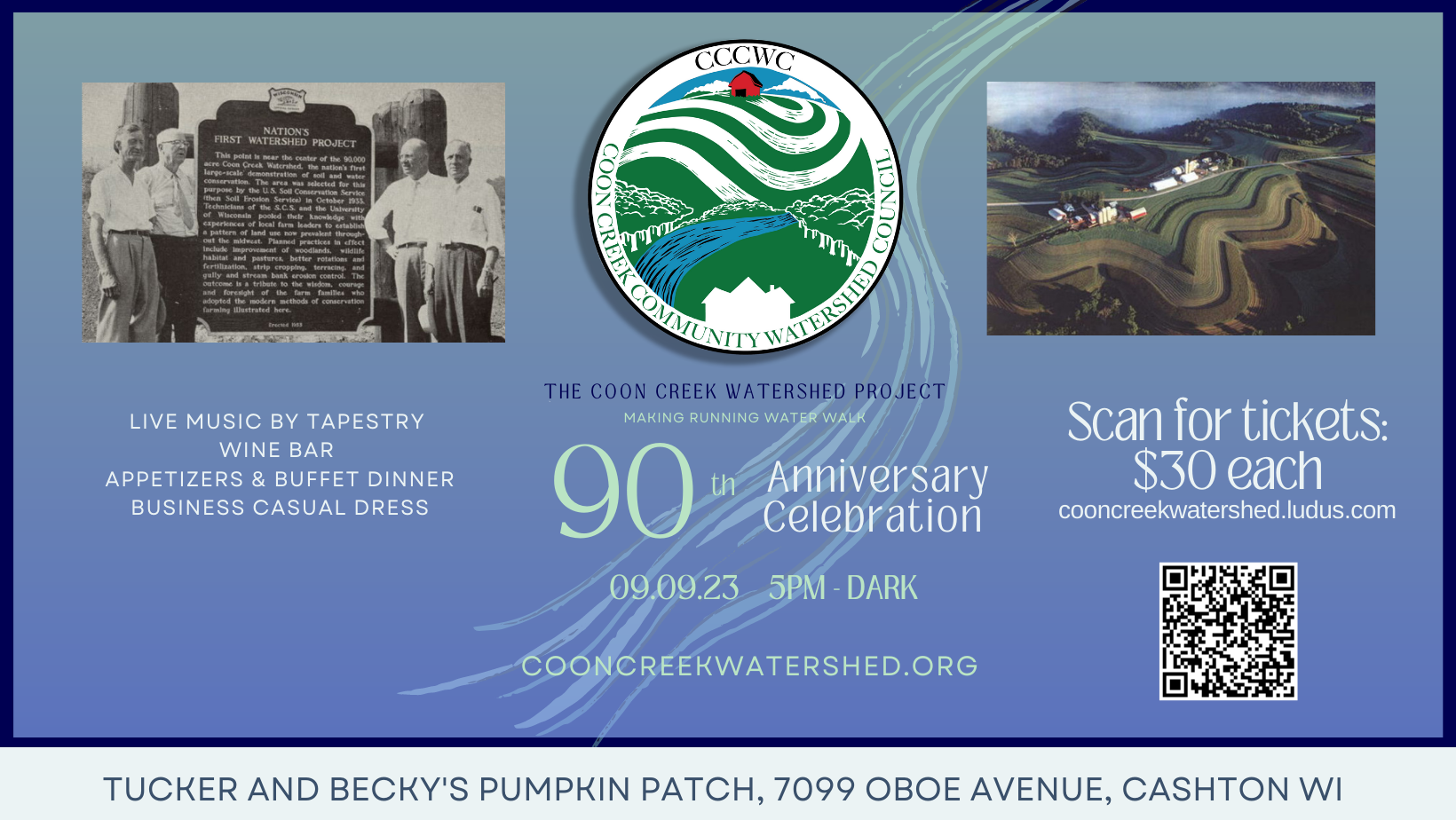 Coon Creek Community Watershed Council to hold 90th Anniversary Celebration September 9th!
Cashton, WI: The Coon Creek Community Watershed Council (CCCWC) is announcing  its 90th Anniversary Celebration on September 9th, 2023.
The annual Anniversary Celebration of the Coon Creek Watershed Project highlights and showcases the Coon Creek Watershed as the Nation's first large-scale conservation demonstration. The September 9th event invites guests for a special night at Tucker and Becky's Pumpkin Patch and celebrates the Coon Creek Watershed's history and present day accomplishments with food, drinks, entertainment, and community. Local and regional conservation organizations and public figures will also be in attendance.
The  90th Anniversary Celebration Program begins at 5:30pm but ticket holders may also sign up for the *Historic Coon Creek Watershed Bus Tour from 11:00am – 5:00pm which includes lunch, historical stops and the Norskedalen Nature & Heritage Center.
*Tour begins at the Coon Valley Veterans Memorial Park and ends at Tucker & Becky's Pumpkin Patch for the 90th Anniversary Celebration. Tickets may be purchased for $30 at https://cooncreekwatershed.org.
Represented agencies include the Natural Resources Conservation Service, National Association of Conservation Districts, Wisconsin Land and Water, National Association of State Conservation Agencies, University of Wisconsin – Madison, and Federal, State and Local governments.
About Us
Our mission is to continue the historic legacy of conservation leadership through improving and restoring our soil, water, and air as stewards of the Creek Watershed. We focus on strategies and practices that individuals can implement.  Together, we are learning to make running water walk.
Membership is free and open to anyone with a vested interest in the Coon Creek Watershed. Membership offers a voice in protecting and shaping the future of this historic and beautiful watershed.
Media Contact
Nancy Wedwick
President
The Coon Creek Community Watershed Council
E5214 Traastad Lane Coon Valley, WI 54623
[email protected]