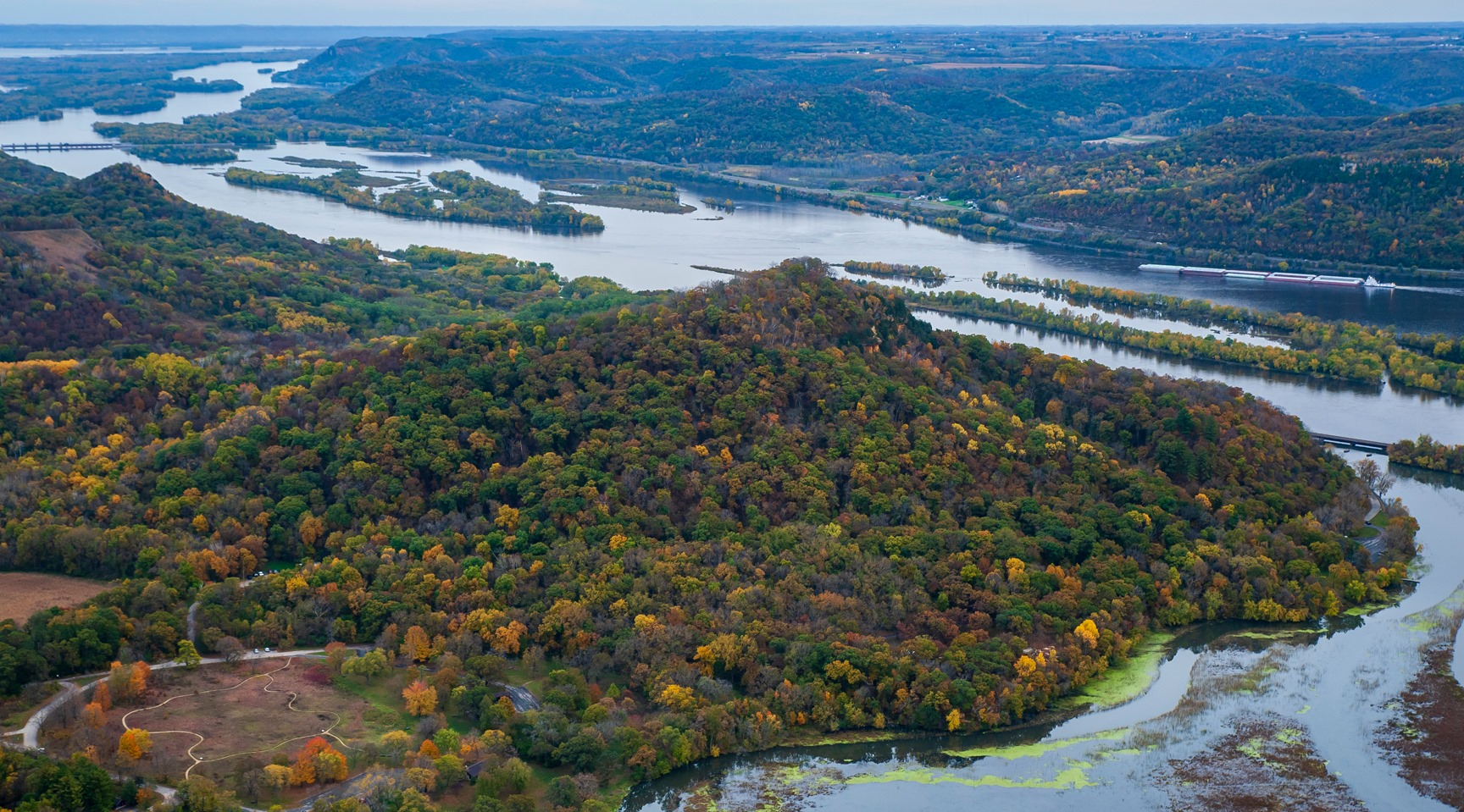 Trempealeau County, WI (August 9, 2022): Saying goodbye to the warm summer months can seem a lot like saying goodbye to the fun that happens all summer long. But in Trempealeau County the fun doesn't have to stop! Late summer, fall, and winter in Trempealeau County means scenic drives, outdoor recreation, and events that will take you traversing around the entire region.
With so much to do, here are a few recommendations to help you plan the perfect late summer, fall, and winter trips throughout Trempealeau County.
Trempealeau County is home to Ashley for the Arts, one of Southwest Wisconsin's largest annual music and arts festivals. This year the festival takes place August 11-13th at the beautiful 54-acre Memorial Park in Arcadia, Wisconsin, and includes art & craft vendors, three stages, a hot air balloon launch, an interactive art station, kid's kingdom playground, food and beverage booths, and much more.
Along with Ashley for the Arts, visitors to Trempealeau County can look forward to two more popular festivals in the fall. In September you can look forward to Blair Cheese Fest in Blair, Wisconsin for a fun, family friendly weekend full of Norwegian flair and cheese curds. Shortly after visitors can celebrate the fall season with Apple Affair in Galesville the first weekend of October. Apple picking, eating apple pie, participating in the Apple Affair Bike Tour, stopping by the craft vendors, and much more awaits those who attend.
If you're itching to get out and enjoy the cooler fall weather and to catch the scenic views of the fall leaves changing colors, or to take part in some outdoor winter recreation, Trempealeau County has you covered. There are opportunities throughout the entirety of Trempealeau County for getting outside during the fall and the winter seasons and enjoying the natural beauty and recreational activities that this Driftless region has to offer.
Bicycling, camping, fishing, and hiking are popular Trempealeau County outdoor activities in the fall. You can take in the beauty and scenic views of the region while exploring the state parks on a hike, casting a line on the rivers or lakes, or taking your bicycle out for a ride. Make it a weekend trip and reserve a campsite at one of the many campsites throughout the county. Come winter, visitors to Trempealeau County can still enjoy the outdoors with ice fishing and snowmobiling.
New to Trempealeau County? Until October 14th, you can still enter to win the 2022 Trempealeau County Summer Sweepstakes, which will guide you in discovering all the region has to offer by providing a variety of gift certificates and overnight accommodations. The sweepstakes winner will be able to have fun in the beautiful natural landscape of Trempealeau County while remaining close to the comforts of welcoming communities. There are also many independent shops, charming downtowns, locally owned dining establishments, and historic places to explore during your visit.
Start planning your next trip with Trempealeau County Tourism!
Destination Marketing Organizations Grant Program
The purpose of this program is to provide tourism promotion and tourism-development organizations assisting with restoring economic activity in Wisconsin following the COVID-19 pandemic. Funding for this assistance was provided to Wisconsin by the federal American Rescue Plan Act of 2021.
Media Contact
Dave Carlson
Economic Development and Tourism Coordinator
Trempealeau County
36245 Main St, Whitehall, WI 54773
[email protected]
715-538-1923
https://co.trempealeau.wi.us/visitors