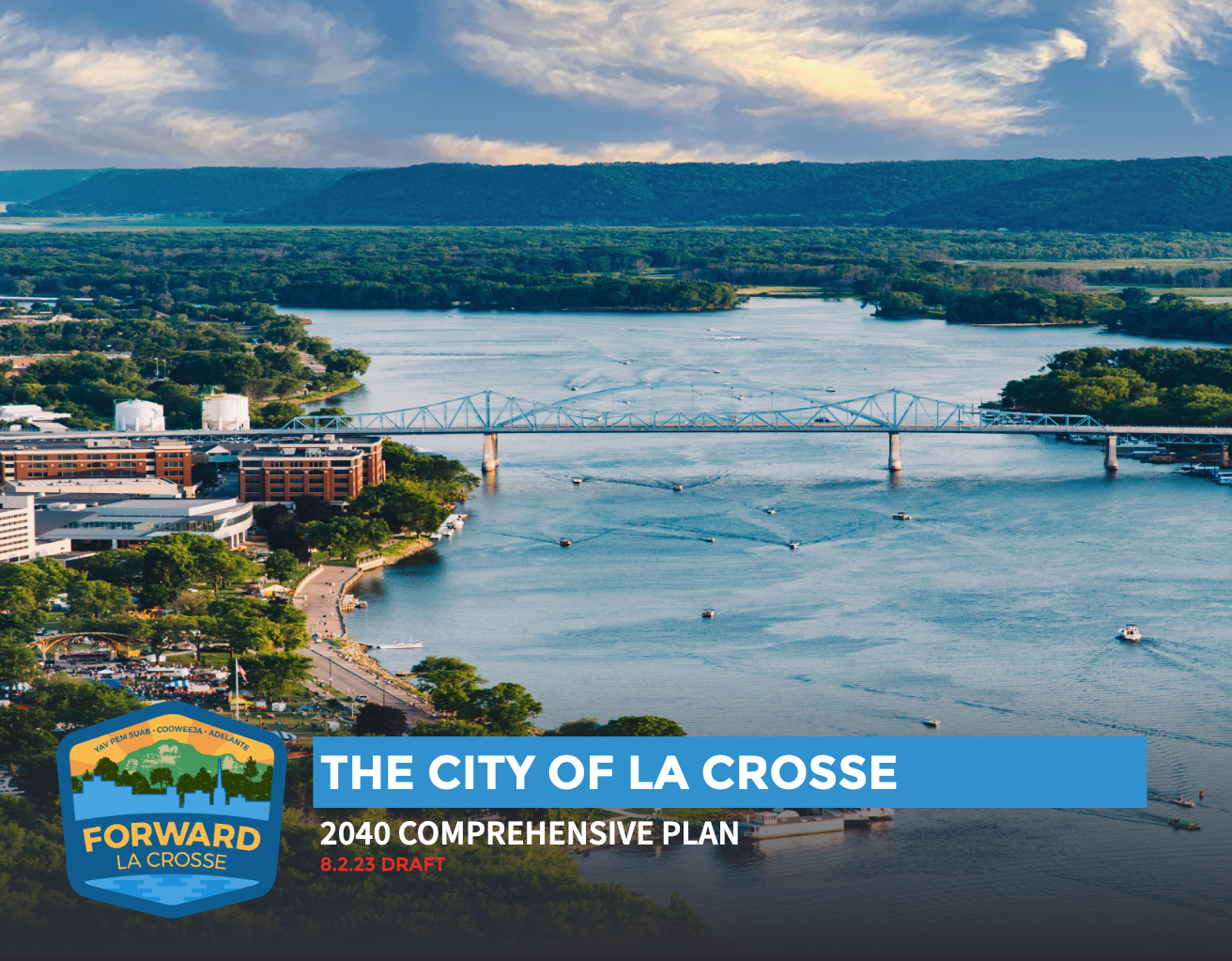 The City of La Crosse's Forward La Crosse Campaign has posted the Full 2040 Comprehensive Plan Draft for Public Review
La Crosse, WI (August 2, 2023): The City of La Crosse's Forward La Crosse campaign has posted the Full Comprehensive Plan Draft for final public comment at https://forwardlacrosse.org. The full draft plan is being shared with the public for final review following an extensive community engagement process.
The public may view the 149 page document and review the chapters focusing on; Community Facilities & Utilities, Heritage Preservation and Cultural Stewardship, Economic Development, Housing, Intergovernmental Cooperation, Land Use, Natural Resources, and Transportation. The Plan's Guiding Principles were established by the Comprehensive Plan Steering Committee, the Common Council, and reinforced by residents via the community engagement process. The themes included a Livable Built Environment, Public Health, Natural Resources, Fairness and Equity and Economic Health.
Thank you to all who have made time to respond and contribute to the development of this plan. Your valuable input will truly help continue to make our community strong.
The City of La Crosse has been soliciting community feedback via its Forward La Crosse Campaign since April 2022 and has seen significant participation in surveys comparable to similar size cities. Further participation opportunity dates can be found below.
Calendar 
Sept 5 – City Planning Commission | 4PM Council Chambers
Sept 5 – Judiciary and Administration Committee | 6PM Council Chambers
Sept 10 – Comment Online Deadline – | www.forwardlacrosse.org
Sept 14 – Final Adoption – Common Council | 6PM Council Chambers
Note: The implementation Matrix and Appendix are still being finalized by City Staff. Additional information on the Comprehensive Plan can be found at www.forwardlacrosse.org.
Media Contact:
Tim Acklin, AICP
Planning Manager
City of La Crosse Planning and Development
400 La Crosse St. La Crosse, WI 54601
608-789-7391
www.cityoflacrosse.org